Getting behind the scenes with a Games Artist and Games Developer.
If you have been following us, you've probably noticed something has been stirring within our studios recently. From purple fountains to giant floating bears on the Thames, our most recent game, the sister title to Candy Crush Saga, quite literally exploded into life. The game is Candy Crush Soda Saga.
As with other King adventures, this one delivered a new and complimentary element to the sagas and the team is very happy with the game they've produced so far. And as with its older/wiser sibling, CCSS came out great because of the amazing team behind it. Natalie Mellin from King's Employer Branding team sat down with a couple of colleagues to talk about their life here at King. Here is what they had to say…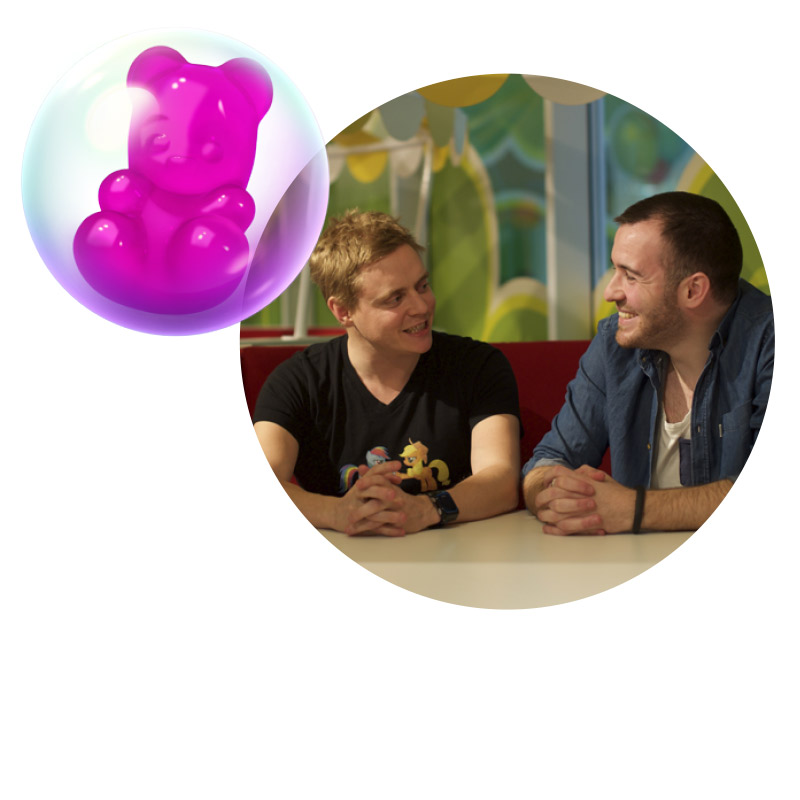 Emil Besirevic, a Games Artist within the CCSS team said: "I've been around, moving to LA straight after high school to study Visual Effects before coming back to Sweden and working for a variety of organisations to get myself in to Stockholm and in to King." Emil Jones, a Developer in the CCSS team, who studied Games Programming and Computer Engineering in Kalmar says: "Same with me, I worked in several industries before joining King and I think all of my experiences has made me a stronger game developer."
Coming up with another hit in the Candy Crush franchise wasn't as easy as just lining up three candies - anyone can do that...
Jones explains: "We were prototyping widely and freely, lots of crazy ideas! We wanted something instantly recognizable and after lots of brainstorming we came up with the soda. We felt that adding the concept of 'fluid' would give the game an extra dimension. 'Gravity' was something that was part of the game already at that point, but we got to flip it with the soda and give it another feel, another touch. A lot of the fun in the game comes from the way the levels are designed, so giving that tool to the level designers felt good."
Challenges are everywhere, how teams overcome them speaks a lot about an organisation and its approach. So when the inevitable happens, the CCSS team is geared up to take it on internally by supporting each other. "Everyone on this team is so talented and have different backgrounds. So if I get stuck I usually just turn to my colleague next to me and work through the answers together", says Besirevic.
But with great challenge, comes great enjoyment, says Jones: "It really sounds like a cliché, so please don't quote me but this doesn't feel like a job at all. I get to do my hobby." He carries on to mention how working with games has always been his dream and that I should just ask his parents. "I'm proud of the game engine we built. We decided to build a new one from scratch, which gave us a chance to start clean and create something without a technical dept. We never thought that the original game would live so long. I think it works great on both mobile and on Facebook."
Besirevic agreed and added: "I think I'm the most proud of the new 3D world map and the look of the candies. It just ended up exactly the way we wanted it to. Good thing also, as lots of hours went into this!"
And for anyone wanting to break into the games industry, Jones leaves us with a simple tip; "Make games in your spare time. You absolutely have to have a portfolio and you absolutely have to stand out. This doesn't have to follow the same model as King, I did 'blood everywhere' games before this! Besirevic fills in: "But you definitely have to show your work and you have to aim big and dare to fail."