A great saga needs all kinds of heroes. At King we are not just incredibly proud to be a home to people of all backgrounds and orientations, but proud that we are home to people who feel free and confident to be who they really are. Isaac Trumbo is both the Technical Administrator on our Engineering Systems and Support team, but also one of the founders of King's RoyaLGBT & Friends network.
I have always been a big gamer, so when I was approached to join King in March 2014, it was a dream come true. King is clearly a business full of incredibly talented and smart people, but I could also immediately tell how relaxed and approachable everyone was.
That gave me the confidence to help set up King's Lesbian, Gay, Bisexual and Transgender employee network in my first few months. At first it was a group of like-minded co-workers meeting occasionally, but it quickly grew from there. It wasn't without its initial – well-meant – challenges. Some thought that we were being exclusive and not following the core King values of Humble and Open. After receiving this feedback we created a Steering Group and came up with ways to define our strategy and goals, and then communicate them to all King's employees. Part of this involved organising RoyaLGBTea parties – both earlier this year and more recently at our latest Kingfomarket. These tea parties were events where LGBT individuals could get together with others at King, have fun and have a light discussion about our mission and goals. We found this crucial to giving the impression that RoyaLGBT & Friends is for everybody.
The success of the network was humbling and we soon had hundreds of members from King's offices in Stockholm, London, Malmo, Barcelona, Berlin and Bucharest. All of them in fact. We got to work planning for our participation in Pride parades, and now I'm happy to say that we've done 5 in the summers of 2014 and 2015.
Probably the most rewarding event I have been involved in, however, was the NOH8 campaign, who we brought over to Europe last summer. It started when one of our gay employees and his husband were victims of a hate crime in Stockholm, which shook many of us to the core. We couldn't believe something so barbaric could still happen in Europe. At that time, I contacted the NOH8 campaign in Los Angeles and started to plan the trip to Europe. We hosted events in London, Stockholm and Barcelona, both in King offices and for the public in locations such as the W Barcelona. The events were a success. King employees who felt they wanted to show solidarity with our colleague were able to have a cathartic experience and contribute to the #NOH8WorldWide movement.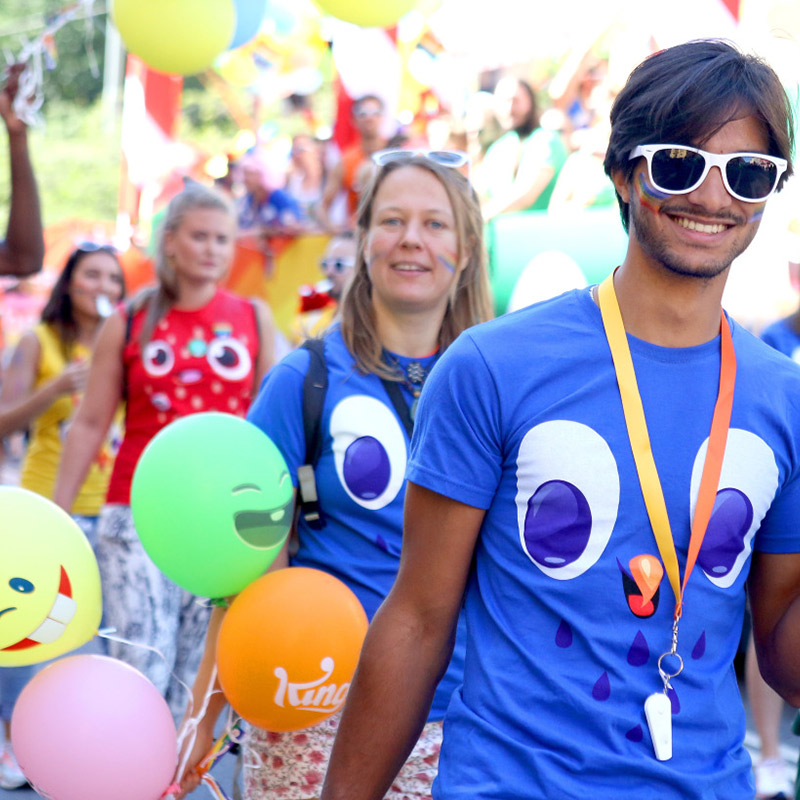 Our year ahead has even more in store. We will continue to march in pride parades in different locations around Europe. We will also be making an 'It gets better' video featuring people from all over the company. And we'll be looking to get more women involved in our network. There is a Women at King group that has overlap with our Lesbian, Bisexual and Transgendered demographic, but it feels like gay males are more likely to get involved in LGBT groups than women. So we'll be looking for ways to make sure they have the support and confidence to express their true colours.
As well as being proud to have founded the network for the good of King, I've also felt an enormous sense of personal pride. I haven't always been an LGBT activist or this heavily involved in anything like RoyaLGBT & Friends. In fact, I came from a very different background that was sometimes at odds with Diversity and Inclusion. I grew up Mormon and was devout until I was 22. Having come from a conservative, sometimes anti-gay background, I know what bigotry looks like and how honest, kind people can find themselves discriminating out of obedience, ignorance or habit. Now having come out of that mentality and living an authentic life, I can appreciate what Diversity and Inclusion really means for younger and more impressionable kids. It can be a matter of life or death. It can mean living your formative years in an endless depression or being free to blossom into the person you are meant to be. It's a message and mentality that must be repeated until we can expel the shadows, break down the closet doors and reach out to every last person in need. King's RoyaLGBT & Friends network is a small step in achieving this dream. I hope others follow our lead.